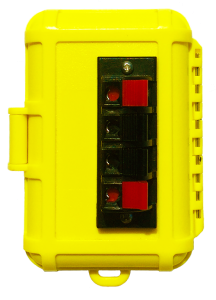 Drop-in Concrete Maturity System with sacrificial sensors and Sensor Reader Module.
Transmit concrete temperature and maturity data wirelessly to an iOS app for iPhone, iPod, and iPad. iDrop sensors connect to a reusable Sensor Reader Module (SRM) that transfers the data to the iOS app via Bluetooth® or stores data locally for later transfer. SRMs have a long battery life and can transmit data about 30 feet, depending on the amount of interference between the SRM and iOS device. Leave the SRM connected to a sensor to view, analyze, and share sensor data in real-time, or, utilize the push-button download feature to collect data from multiple sensors and transfer to your iOS device later.

iDrop sensors are priced at just $35 each—the lowest cost of any purely sacrificial system on the market. Files created in the app are fully compatible with COMMAND Center for Windows software.
With complete kits (50 iDrops, reader, and software) starting at just $2,999, there is no reason not to start using a concrete maturity system today!